[This week's blog comes from Sandra Oliva Levyeva, a mentor at JVS and a research resource coordinator at George Brown College!]
Today, newcomers with diverse skills and cultural backgrounds positively contribute to the growth and prosperity of the Canadian economy and the global community. Your international knowledge is one of your most essential assets and marketing tools in your job hunt. You showcase your expertise through active networking and online job applications to build your brand awareness and attract potential employers.
However, your lack of Canadian experience and language proficiency limits you from obtaining an occupation relevant to your acquired degree and credentials earned in your homeland in contrast to Canadian-born graduates. Language barriers, unrecognizable credentials, and lack of Canadian experience are viewed as the most common barriers newcomers face after arriving to Canada.
Competing for the best opportunity in the labour market, you tip over on a scale between two choices: applying for an entry-level job finding yourself to be "overqualified," or finding yourself "underqualified" for mid-senior level jobs and lacking the Canadian experience employers expect. Finding and securing a well-paid job can be daunting and often leads to low self-worth when the employer closes the door. In 2013, the Ontario Human Rights Commission established a policy on removing the 'Canadian Experience' barrier, and hiring practices for immigrants have been improving.
According to the Statistics Canada Labour Force Survey, "Canada's population age-structure has been undergoing changes resulting from increasing life expectancy and falling fertility rates. These long-standing changes are reflected in the country's continued reliance on immigration to maintain and further its economic growth" (Yssaad, L. and Fields, A., 2018). Thus, the Canadian recruitment and selection system is becoming more favourable to new, highly-skilled immigrants, enriching our economy. The following chart highlights this importance of immigrants in the workplace during their prime working age: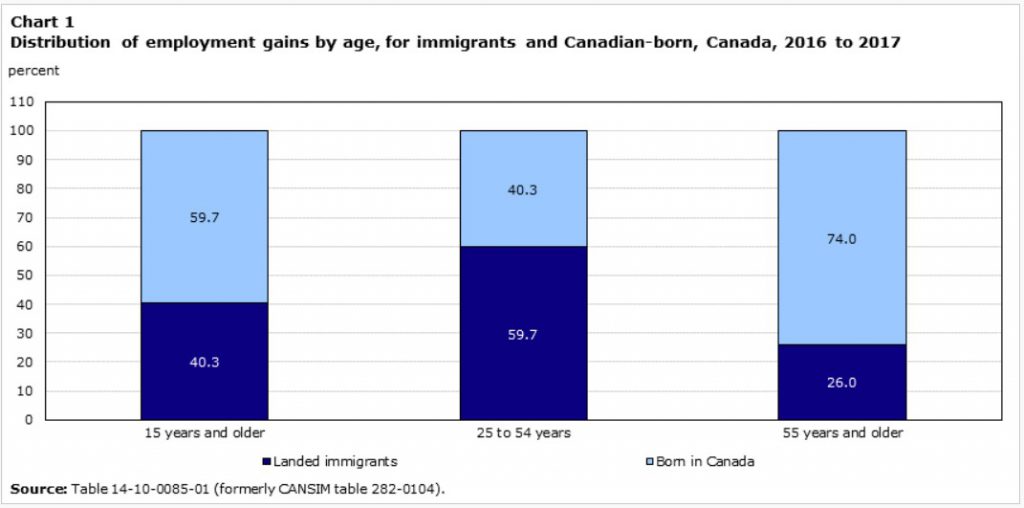 Credentials, skills, experience, and an understanding of the Canadian workplace culture are unquestionably important to meet employer expectations. What happens behind the scenes of decision-making to hire the right candidate? Here are a few reasons why employers are cautious to onboard overqualified newcomers:
Fear of Turnover
For an entry-level job, when an organization receives a holistic, well-rounded, experience-packed resume, there is fear you'll quickly get bored, and commitment and motivation will be your last priorities. One of the biggest operational expenses for employers is recruitment, training, and retention of staff. Human Resource professionals and businesses spend an increasing amount of time building their employer brand, conducting research, marketing their positions, and hiring and training employees. Hence, depending on the nature of the job, employers fear quick turnover, which can lead in higher costs.
Canadian Workplace Culture
Employers search for candidates who understand the Canadian workplace culture and social behaviours, and have an ability to effectively achieve team goals. Collaboration and teamwork are highly valued in flatter and functional organizational structures.
Local Industry Knowledge
Lastly, business acumen and local industry knowledge are paramount to competitively positioning an organization in the market for long-term success. Compliance with local industry standards and laws to carry out business processes is vital to avoid legal issues and damage in reputation.
Gaining your 'Canadian Experience'
With the expansion of innovation, technology, and globalization, use your transferable skills throughout the job hunt. It's not uncommon for a newcomer to work a short-term, entry-mid-level job, or to start with volunteer and charity work. By dedicating your time for meaningful causes, you're gaining that desired Canadian experience and building significant connections that may lead you to the next, better job. Here are some recommendations to break down the job hunt barriers and ensure you're selected for the next round of interviews – whether it's paid or volunteer:
Step 1: The Search
Cooperative (co-op) education and field placement programs have become increasingly popular in Canada. The Government of Canada offers a federal internship program for newcomers. Furthermore, research local employment organizations and agencies in your area to assist you in your search. The greatest benefit of internships is the high probability of getting hired permanently after your contract ends.
Step 2: Your Resume & Cover Letter
Consider your transferable skills and competencies to create a functional resume. Skip stating your entire foreign work history, skills, and qualifications, but rather tailor your qualifications to the job ad. By highlighting relevant information, the hiring manager will clearly identify your key strengths that match the vacant position. In your summary of qualifications, highlight your transferable skills. For instance, if you're applying for a customer service role, your technical experience as a tax manager may not be relevant. Yet, the leadership abilities you've gained from being in a position of authority are applicable to many industries, without the need to downplay your foreign management experience for an entry-mid-level job.
Your cover letter is your personal branding catalyst. Use it to explain how the job will benefit you in your career advancement (i.e. whether it's specific skills you'd like to improve, or learning more about the overall industry). Cover letters are an opportunity to share your relevant experience in a short story format.
Step 3: The Interview
You've been selected for an interview – the next step is proving your interest in the organization. At this stage, prepare by researching the company and identifying the company's key accomplishments, unique attributes, and its competitive advantage. In the interview, make it clear that even if you know the job well, as a lifelong learner there are always areas of improvement for both yourself and for example, the organizational processes. The employer will be intrigued to learn what you hope to gain from the role, and that you'll stay.
Step 4: Network
Continue to build relationships, attend informational interviews, join professional network groups and associations, and contribute to the community. Getting your foot in the door through these meaningful opportunities helps you get acquainted with the Canadian culture, creates warm leads to tap into the hidden job market, and give you the confidence to reach for any goal you have in mind.
References
Ontario Human Rights Commission (February 1, 2013). Policy on Removing the "Canadian experience" barrier. Retrieved from http://www.ohrc.on.ca/en/policy-removing-%E2%80%9Ccanadian-experience%E2%80%9D-barrier
Yssaad, L. and Fields, A. (December 24, 2018). The Immigrant Labour Force Analysis Series.
The Canadian Immigrant Labour Market: Recent Trends from 2006 to 2017. Retrieved from: https://www150.statcan.gc.ca/n1/pub/71-606-x/71-606-x2018001-eng.htm