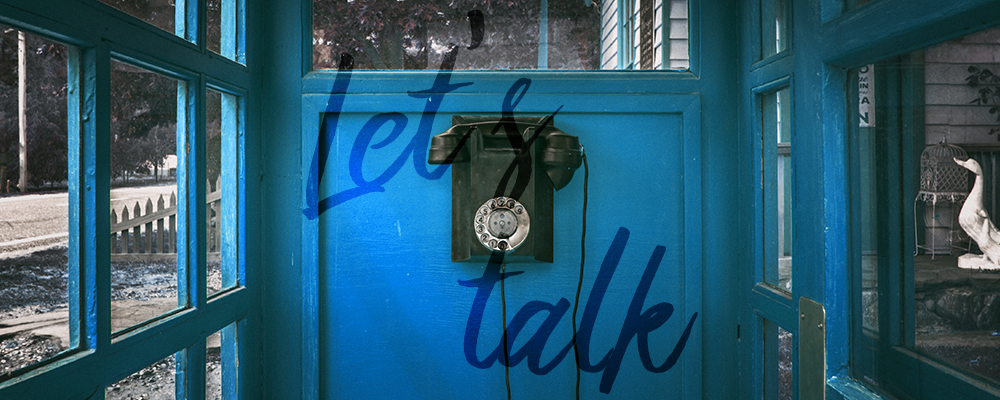 Everyone feels differently. Mine feels like custom-tailored clouds smothering and weighing down my five-foot, seven-inch frame, challenging me to cling on to my to-do list – that's long enough to scrape the bottom of a bottomless ocean – from slipping away. I feel this every day. It's like the ocean is the North Atlantic, the list is Rose DeWitt Bukater, and I'm Jack Dawson – but unlike him (spoiler alert!), I'm here, alive and well.
Arriving at Yonge-Dundas Theatre an hour ahead of trailers for It Comes At Night, nothing intrigued me more on a Saturday night than the latest week's news on Twitter. Between the anguish of London, Manila, and Cape Town, were intermittent breaks from my smartphone to scan for other overzealous, early-arriving friends. A black, XL-sized T-shirt emblazoned with white text, worn by an L-sized passerby, caught my attention for mere seconds before disappearing up the escalator.
'Well damn, they have those runs for everything health related.'
A nervous scour through the fundraiser's homepage finished with a 40-something-page PDF buried deep into my smartphone. After four summer weeks of dreading the inevitable and letting the dust collect, I scrolled through lists and checked off squares. My afternoon trek to Woodbine Beach in search of solitude delivered something else. It gave me the most important thing I'd ever learned about myself.
Now, I embrace my unconditional need for order, consistency, definition, meaning, purpose, and reasoning. I know my perpetual pursuit of permanent perfection in everything is unattainable – yet I can't stop trying. I know my brain needs a break – yet I can't stop thinking.
It's often trivialized, no matter how mild or severe, often overlooked, no matter how visible or invisible.
It's often a weak rationalization for anything enigmatic. I'm never offended nor upset, but merely discouraged. I feel like a bystander witnessing a finale that's egregiously inconsistent with its preceding episodes.
Most disappointing, it's often a misdiagnosis for anything offbeat, comical, or 'different.'
A 2017 Statistics Canada report revealed that approximately 59 per cent of working-age adults with disabilities were employed compared with around 80 per cent of those without disabilities. In 2012, it was 47 per cent compared with 74. Over seven years, the disparity decreased by only six per cent. If my elementary school teachers graded Canada's progress, she'd give our country an 'S' for satisfactory – or for somewhere in between 'G' (good) and 'N' (needs improvement). What's the disparity in 2022? The leadership demonstrated by our corporate champions, social influencers, and government leaders inspires me. I'm hopeful and confident more change is coming.
But any change, no matter how meager or considerable, is still change. Any dialogue and awareness, no matter how corporate or pure, is still dialogue and awareness. The Bell Let's Talk mental health campaign has supported more than 1.2M individuals with access to mental health care and presumably impacted many more, by funding communities, promoting education, and inspiring people – like me – to share their stories.
In 2019, the Information Era, businesses rank information as the most valuable commodity. If intelligence stands atop the Olympic podium, I'd award my silver to the ability to inspire, and bronze to the ability to provoke thought.
My thoughts of settling into a profession that appreciates – and demands – consistency, the identification of subtle errors, and a pursuit of perfection amuses me. It triggers my fascination with life's 'fate versus free will' question.
'Did my disability assign this career path as a writer and an editor?'
My disability doesn't define me – but it's shaped my identity.
'What other professions seek organized, considerate, and detail-oriented people like me?'
And fittingly, the thought of working at an organization that advocates for the employment of people with disabilities has strengthened my value in authenticity – especially its worth within the 21st century workplace. I get to be myself outside and inside the office.
Until December 2018, Career Edge connected recent post-secondary graduates with a self-declared disability having graduated within the last three years to employment in their field of study. Recently, Career Edge expanded that parameter to include all people with a self-declared disability who possess a post-secondary degree or diploma with no time limit.
Tabatha McIntyre, our Vice President of Marketing & Partnerships, said, "Opening up our program will make a tremendous impact in helping those who already face a barrier to employment. We need to remove barriers – not create them."
Career Edge removes the access barrier to employment by allowing jobseekers to declare that they have a disability. This informs our employer partners if they need to provide accommodations during the interview process or on the job. It's not required of these jobseekers to disclose the specific disability – that decision belongs to the jobseeker. Some disclose, others don't, I will.
Because sometimes my story isn't merely offbeat, comical, or different. Sometimes, it's Obsessive Compulsive Disorder.
A Career Edge predecessor once wrote, "I want to bring my whole self to work." Her words – along with those from another former coworker (and that T-shirt) – inspired me to write mine.
What's your story?