Tuesday, April 24, 2018      •      Royal Conservatory of Music
•     Keynote Speaker :  Michael "Pinball" Clemons      •
The Career Edge Biennial Achievement Awards
celebrates people helping people connect with fulfilling career opportunities, allowing them to pursue meaningful and lasting careers that contribute to Canada's future innovation and socio-economic wellbeing.
Attracting 150 business leaders and executives from Canada's top employers, and joined by Michael "Pinball" Clemons as Keynote Speaker, the 2018 Achievement Awards recognized four interns (one from each of our talent pools) for their outstanding performance and contribution to their host organization.
A Career Edge partner and a mentor were also honoured for their roles in breaking the 'no experience, no job' cycle, and going above and beyond to ensure an exceptional internship experience for their mentees.
Mentor of the Year
The Mentor of the Year Award recognizes the outstanding contribution of a mentor or coach from Career Edge's paid internship program.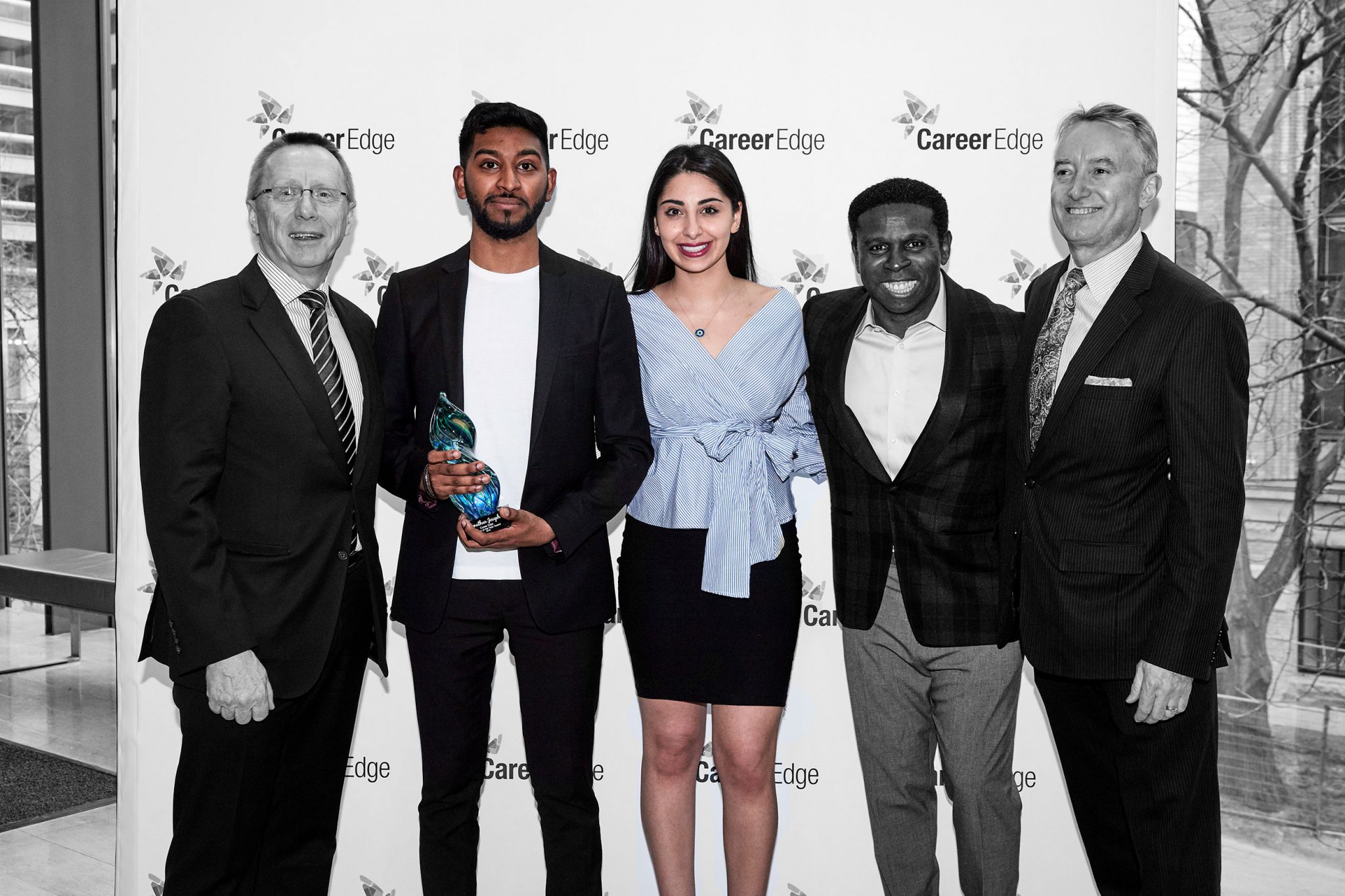 Jonathan Joseph
Senior Manager, Marketing Communications, Virgin Mobile Canada
Nominated by Intern, Tania Halteh.
"Jonathan made it evident that I was a vital part of the team by equipping me with onboarding resources, inviting me to weekly meetings with directors and other key
internal stakeholders, and providing constructive and frequent feedback.
"Instead of brewing up coffee, I'm brewing up new ideas, and with the support and guidance of my senior manager, Jonathan Joseph, I see an exciting future for myself."
— Tania Halteh, Merchandising Coordinator, Virgin Mobile Canada
Intern of the Year
The Intern of the Year Award recognizes the outstanding performance of an individual intern from each of Career Edge's four talent pools. In addition to being recognized during the event, each Intern of the Year received $1,000 for their exceptional contribution to their host organization.
Felicia Labriola
Recent Graduate | Project Coordinator, Humber River Hospital
Nominated by Mentor, Joe Gorman.
"Felicia is extremely flexible, adaptable and willing to assist with the changing
needs of the business and stakeholders, as necessary. She takes great pride in her work, taking ownership of her actions and is accountable for the decisions, outputs and results of her projects.
"Currently, she has been the project lead on the new 3,000 sq. ft. fitness centre and she has all 4,000 staff, physicians and volunteers praising the work ethic and attitude she brings to the team! As I say, she is the best!"
— Joe Gorman, Senior Director of Communication, Humber River Hospital
Kevin Echevarria
Person with a Disability | Financial Analyst, RBC
Nominated by Mentor, Marino Rajasingham (right).
"Kevin is an outstanding young man with lots of leadership qualities. He always strives to maximize his and his team's potential by coming out with very creative ideas and initiatives.
"With his technology knowledge, our department was able to automate most of the
day-to-day process and enabled us to save around 100 hours each month. As
a result of Kevin's great work we have extended a permanent offer of employment."
— Marino Rajasingham, Senior Manager, Financial Controls, RBC
Abhishek Chander Gupta
Skilled Newcomer | Graphics & Online Communications Intern, Ontario Heritage Trust
Nominated by Mentor, Katherine Low.
"As a brand new intern, Abhishek quickly learned the intricacies of the role and the balance of relationships within the organization. He deftly steered projects, finding common ground and developing creative compromises to find solutions that worked for all parties.
"Working with Abhishek was a pleasure – he has much to contribute to any team and he is eager to better the community around him through self-improvement."
— Katherine Low, Manager, Marketing and Business Development, Ontario Heritage Trust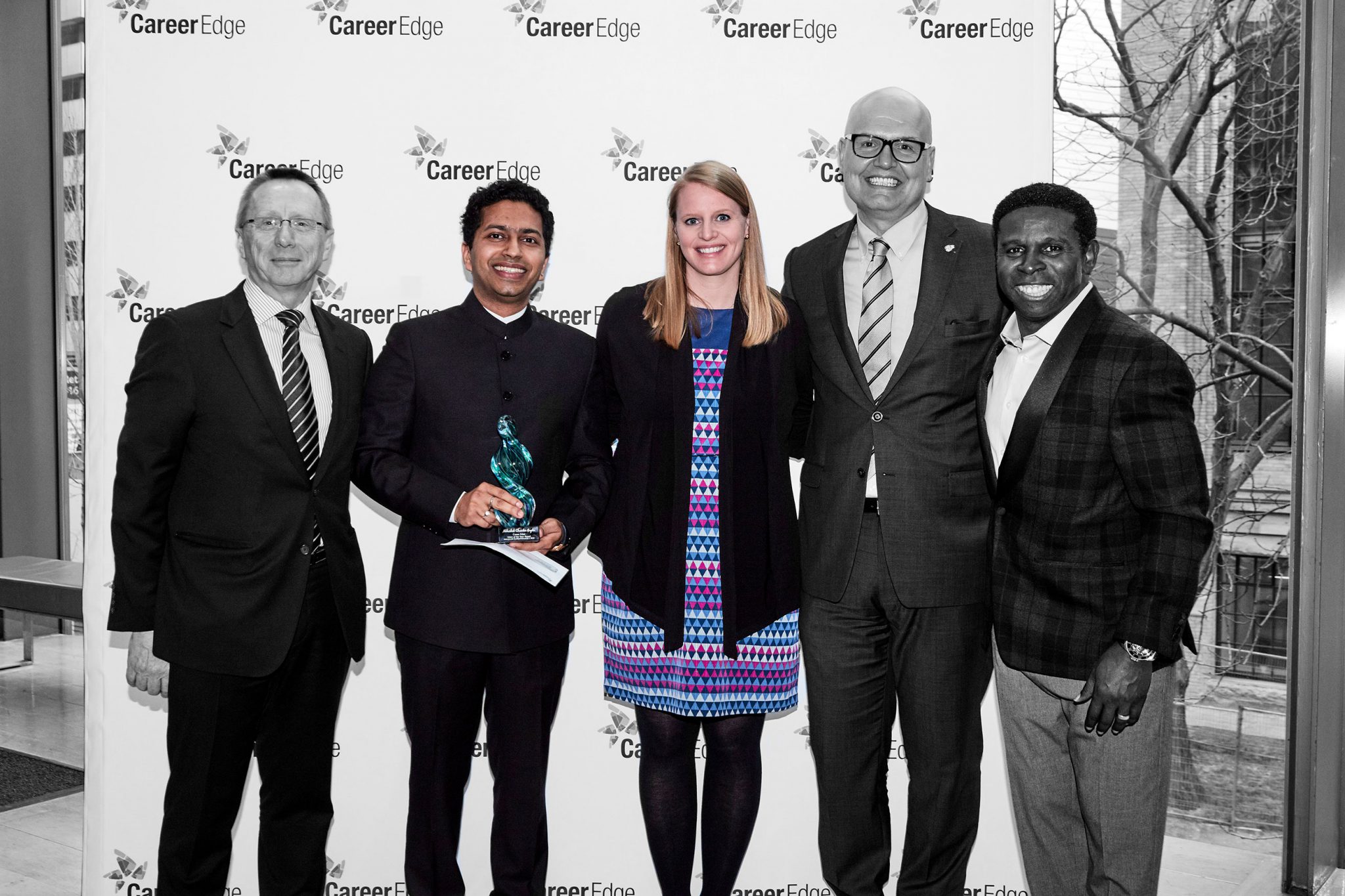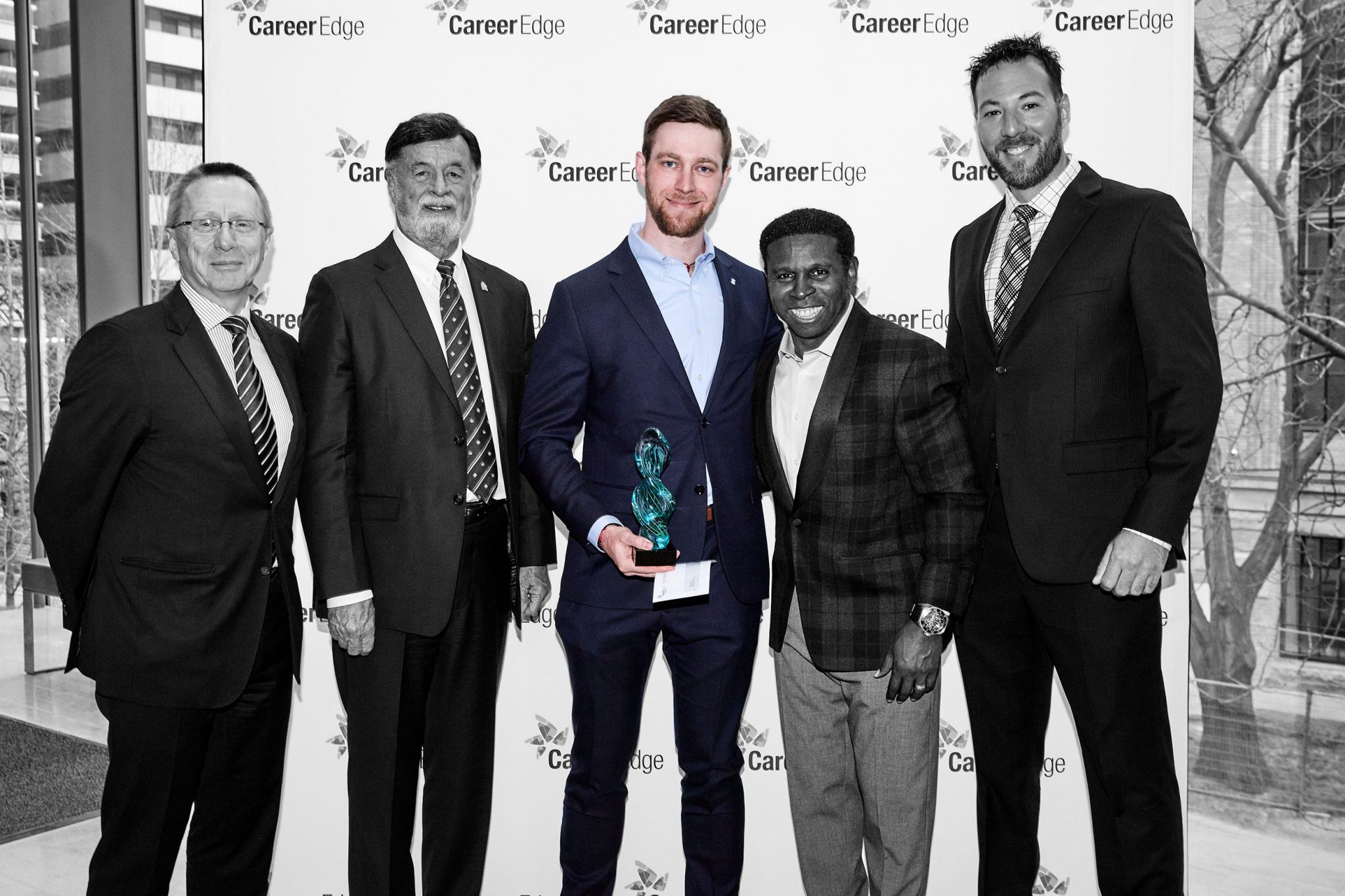 Anthony Alliot
Canadian Armed Forces Member (Reservist) | Recruitment Consultant, Scotiabank
Nominated by Mentor, Bruce Smith (not pictured).
"Anthony has taken on the Military / Veterans / Reservists initiative with Scotiabank (nationally) with a great deal of passion and insight; he has developed a Scotiabank Live page, is working on establishing an Employee Resource Group, and is facilitating the Basic Military Qualification course on the weekend (for 12 weekends) outside of work.
"Anthony is showing signs of being a future leader with us; his communication style and presence are very good signs. He is a very good recruiter with Scotiabank. We are very pleased we found him through Career Edge."
— Bruce Smith, Senior Manager, Recruitment, Scotiabank
Congratulations to all our winners!
Special thanks to our sponsors

Manulife Financial Corporation is a leading international financial services group that helps people make their decisions easier and lives better. We operate primarily as John Hancock in the United States and Manulife elsewhere. We provide financial advice, insurance, as well as wealth and asset management solutions for individuals, groups and institutions.
At the end of 2017, we had approximately 34,000 employees, 73,000 agents, and thousands of distribution partners, serving more than 26 million customers. As of December 31, 2017, we had over $1.04 trillion (US$829.4 billion) in assets under management and administration, and in the previous 12 months we made $26.7 billion in payments to our customers.
Our principal operations are in Asia, Canada and the United States where we have served customers for more than 100 years. With our global headquarters in Toronto, Canada, we trade as 'MFC' on the Toronto, New York, and the Philippine stock exchanges and under '945' in Hong Kong.