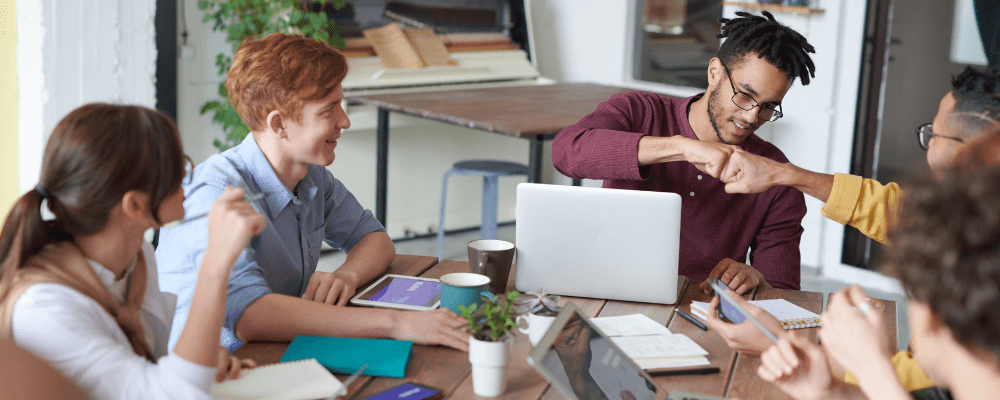 Picture this; your top employee quits out of the blue. You try to keep them, but they got an unmatched offer. 
Now, you have to rely on the remaining staff to take on more responsibility while searching for a replacement. The rest of the team feels overwhelmed, their morale is not the best, and they probably think about leaving.
The good news is that almost two-thirds of employee departures are preventable. 
So before losing another top performer, it's time to revisit your employee retention strategies to ensure your business provides job satisfaction and employee retention. 
76% of workers want to look for a new job. In 2021, Visier's research reported that the turnover rate was 25%.
You might be asking, what makes employees stay?
Employee retention should always be a priority—having comprehensive employee retention strategies can play an important role in attracting and retaining employees and reducing turnover and all its costs. Here are some of the ways to do that…
1. Create Professional Development Opportunities
Losing employees due to no or minimal learning or development opportunities is one of the worst kinds of employee turnover.
Because the best employees want to advance in their careers, they are motivated by challenging work and the potential of promotions. Employees who remain stagnant for an extended period are more likely to leave an organization.
94% of employees surveyed by LinkedIn said they'd stay longer at a company if it invested in their professional development. 
Here is how to develop effective learning and growth strategies:
Understand the learning preferences of your employees
Provide tuition assistance: support your employees by subsidizing their education when possible.
Support employees build upon their skills through stretch assignments, cross-training, and seminars.

Mentor employees to help them reach their full potential.
2. Ensure that Employees are Appreciated and Recognized
According to one Gallup poll, 66% of employees say they would quit their job if they felt unappreciated. Only 49% of exiting employees said they felt valued by their leaders.
Some managers don't show gratitude, which leaves employees feeling underappreciated. In fact, employees are more than twice as likely to experience burnout when they feel unappreciated. 
Some managers would make common mistakes when trying to improve recognition, including:
Going around at the end of each day to thank everyone on the team one by one

Going from never thanking anyone to suddenly thanking everyone for everything

Delivering thank-yous followed by a negative comment
Tips to improve employee appreciation
Build a culture of recognition by celebrating and rewarding behaviours and going above and beyond.

Present the recognition publicly during events or on internal networks that allow you to broadcast a coworker's accomplishments.

Create annual awards where recognized employees are honoured by their peers and senior management.

Show recognition and appreciation to employees in other ways (such as bonuses, promotions, more time off, etc.) to demonstrate your respect and appreciation for hard-working team members.
3. Prevent Burnout
A study from Morneau Shepell reported that 40% of managers and 34% of employees suffer from "extreme stress." Researchers from Harvard and Stanford found that working for long hours increases life expectancy by roughly 20%. 
Burnout from work is experienced by 74% of employees. But overworking employees is a short-term strategy that doesn't have a lot of long-term gains. Research shows that after a certain point, productivity declines every additional hour. Moreover, overworked employees tend to fall ill more and make expensive mistakes. Not to mention that it hurts job satisfaction over time and affects the company's recruitment and retention costs.
Actionable strategies to prevent employee burnout
Facilitate an open manager-direct dialogue

for workers to freely speak about their workload and request the support they need it

Encourage workers to take time off

Increase headcount or radically prioritize tasks
4. Create Flexible Working Arrangements
After Covid and having to work remotely, employees realized that they could eliminate one of the biggest pain points of the job—commuting into the office, especially when people are working from home, has proven to be as productive as those who remain at the office. 
Employees who are given ample growth and flexibility are 4x less likely to become a retention risk. Employee turnover statistics: 23% of workers have left their job due to a bad commute.
A few actionable strategies to provide flexibility in the workplace include:
Provide remote and hybrid options; business

 leaders should promote remote working and flexible hours, especially if your teamwork in terms of deliverables.

Consider conditional flexibility. This

 means the option to work from the office one to two days a week. Flexible hours allow workers to create a schedule that works for them. 

Offer flexibility in how employees work, by giving your team autonomy and eliminating micromanagement.
5. Offer a Fair Compensation
If your employees are putting in the full effort but feel like their pay is not fair or not consistent with the industry benchmarks, they're likely to entertain offers from another employer who is happy to pay them more.  
A recent Glassdoor investigation found that 45% of employees who resign have done so as they were not satisfied with their salaries.
Competitive pay is more than just the paycheck; it also includes the benefits offered to employees that contribute to their total compensation—bonuses, healthcare coverage, paid parental leave, life/disability insurance, paid time off, and retirement benefits. 
Great benefits make employees feel valued, supported, cared for, and less likely to look elsewhere. 
6. Prioritize EDI 
Diversity, equity, and inclusion have become an expectation in the modern workplace. Managers should always think of ways to make the workplace more inclusive by eliminating bias and barriers to diversity. Leaders need to consider each employee individually and create a work environment that supports everyone's unique needs. As employees feel seen and included, they'll have more initiative to stay. In addition to the retention benefits, your business will also reap many other EDI benefits.
7. Communicate Openly 
Create a culture where employees can talk and feel connected enough to do their jobs well. Managers should regularly check in with employees to address issues, answer questions, and discuss future career goals. 
Employees' insights can also provide you with the tools to take strategic, evidence-based action and improve the employee experience and retention. 
An actionable employee communication plan includes
Employee surveys to understand the employee experience, perception, and feedback. 

Creating a safe space for your team to share their honest opinion. 

Exit interviews and surveys to help leaders understand why employees leave

Having two-way feedback where managers can uncover areas of improvement for themselves and grow in their role

Getting insights from consultants and coaches to assess the work environment.
8. Enhance the Onboarding Process
Imagine going through an expensive recruiting of a new talent only to lose them within the first two months.
Losing a new employee potentially points to a poor onboarding process. An HR research found that 76% of workplaces aren't onboarding their new hires properly, while only 47% believed their onboarding program effectively retained new employees.
Actionable tips to improve onboarding
Create a program that's about integrating new hires into the company culture. Your onboarding process should: 
Clarify job expectations

Set employees up for success

Explain the company's policies and procedures

Outline company culture

Introduce the new hire to their team and other teams

Give the new employee a chance to ask questions when they arise. 
This process can take up to a year to ensure your employees are fully immersed and comfortable with the organization. A strong onboarding plan can help employees feel connected faster, decreasing their likelihood of second-guessing their decision to join your organization. 
While money can retain people, it's not the only way to retain employees. There is more to keeping employees than just paying more; in many cases, you just may need to pay attention.
Keeping your current employees happy and improving job satisfaction is the smartest employee retention strategy.